THE MOST PREMIER TRAINING FACILITY ON THE ISLAND
Experience Wanderlust Fitness Village and join the global WANDERLUST community with 15,000+ transformed members since 2016, and enjoy state-of-the-art amenities.
Wanderlust Fitness Village offers an all-inclusive fitness experience with state-of-the-art equipment, diverse group classes led by certified instructors, and expert staff assistance. The massive facility also hosts a well-equipped recovery center and a 25 meter pool located at the Eat Sleep Train Hotel.
Monday to Friday: 7:00am – 8:00pm / Saturday to Sunday: 7:00am – 7:00pm
Doing your own programming?
Visit our Open Gym, featuring 450 square meters of training space.
As Bali's only gym with full-day access to a dedicated open gym area, we're available Monday to Friday from 7:00am to 8:00pm and Saturday to Sunday from 7:00am to 7:00pm.
(No coaching, no classes. Equipment yields to classes)
Need space for an event or retreat?
Please email us at info@wanderlustfitnessvillage.com to discuss your requirements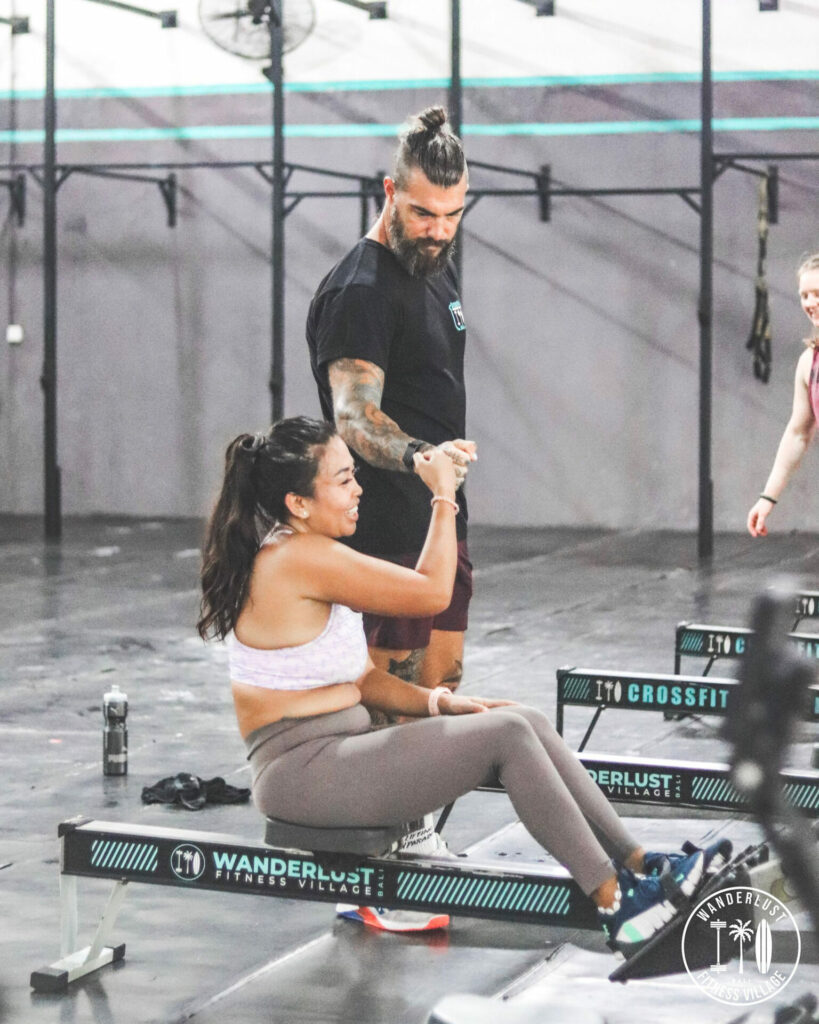 Book your personal training!
If you're looking to achieve your fitness goals, consider booking a personal training session with our hand-picked team of elite coaches from around the world at Wanderlust Fitness Village. Our coaches are some of the best in the industry, and we can help you transform your body, build muscle, lose belly fat, or improve on your favorite lift. With personalized programs and private sessions available, we're here to help fast-track your progress. Contact us via Whatsapp at +1 (847)800-6283 to get started on your fitness journey today.
Educators not cheerleaders!
Boasting top-notch coaches, Wanderlust Fitness Village Bali guarantees to build better humans through their exceptional expertise and dedication to student engagement, classroom preparation, and personalized technique guidance, ensuring an unparalleled training experience. Whether you're looking for personal training sessions or joining a class, our amazing coaches are here to help you achieve your fitness goals.
All our amazing coaches are available for personal training sessions.
CrossFit classes at Wanderlust Fitness Village Bali begin with a coach-led warm-up, followed by a strength or skill session, and conclude with a high-intensity conditioning workout featuring Olympic lifting, metabolic endurance exercises (rowing, biking, skiing, running), gymnastics, and bodyweight movements. Designed for all fitness levels, our highly skilled coaches can modify, scale, or adjust exercises to suit each individual's capabilities, ensuring a tailored and effective workout experience.
Metcon, short for metabolic conditioning, offers classes that blend strength and cardio conditioning while incorporating both anaerobic and aerobic exercises. Ideal for those seeking an extended cardio session enriched with varied movements, these classes exclude Olympic lifting for a more diverse workout experience.
Looking to enhance your weightlifting skills? Participate in our Weightlifting Classes, tailored to help you refine your technique at any level. Whether you're a beginner learning step-by-step or an advanced athlete working on strength and precision, everyone is welcome!
Schedule:
Monday: Clean and Jerk
Wednesday: Accessories and Strength Day
Friday: The Snatch
The Glute-focused class offers a well-balanced workout targeting your glutes with a combination of free weights and booty bands, promoting muscle growth, tightening, toning, and lifting. Set in a fun group environment and accompanied by energetic music, this class delivers an enjoyable and effective workout experience.
The Calorie Burner class is designed to achieve its namesake goal—burning a significant number of calories. Utilizing a HIIT-based format, participants engage in bodyweight movements, light weightlifting, and cardio machine exercises, all aimed at elevating heart rates and promoting calorie consumption.
Our Total Body Workout class is meticulously designed to provide a comprehensive exercise experience that tightens and tones your body, targeting key areas. The class also instructs participants in various strength training movements to enhance overall strength. A combination of free weights and resistance bands is employed throughout the workout for optimal results.
Wanderlust Kids Movement and Mindset classes cater to the unique developmental needs of children aged 3-12. Incorporating functional movements and exercises essential to various forms of play—such as pulling, pushing, running, throwing, climbing, lifting, and jumping—the classes feature warm-ups, games, and workouts specifically designed to support children's physical development.
Boxing:
A cardio boxing class is a high-energy and engaging fitness workout that combines the techniques and movements of boxing with cardiovascular exercises.
Kickboxing (Muay Thai):
A cardio kickboxing class is an energetic and dynamic fitness workout that combines the techniques of martial arts, specifically kicks and punches, with cardiovascular exercises.
Brazilian Jiu Jitsu
Brazilian Jiu-Jitsu  is a dynamic martial art and combat sport that focuses on ground fighting and submission holds.
No Gi Grappling 
No Gi Brazilian Jiu-Jitsu is a variant of the traditional Brazilian Jiu-Jitsu (BJJ) that is practiced without the use of the traditional gi, or uniform.